Some holiday treats are quite good bought from the store. Others are best homemade.  Two of my coworkers were pleased with Aldi's gourmet stollen that I gave to them as gifts. Maybe because I'm not really a fan of marzipan, stollen isn't high on my list of Christmas foods, though. The price of the stollen was quite reasonable, especially considering the cost of marzipan, almonds, and dried fruit–not to mention the value of one's time around Christmas.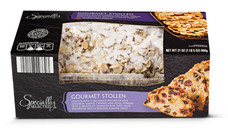 One of our friends gave us a gift bag with two bottles of gourmet soda on Christmas night. Although it isn't Rowling's butter beer, Olde Philadelphia root beer definitely has buttery characteristics. Thanks Waggoners! A special thanks to Sharon, too, for the H.P. tie (Joel says he wouldn't mind getting one every Christmas.).
Eggnog can be tricky. Many of the cartons that you find at your local grocery store are overloaded with nutmeg. If you decide to make your own, you either have to risk salmonella poisoning or figure out how to cook the eggs without ending up with a curdled beverage…although you can put it in the blender and/or pass the lumpy liquid through a fine sieve if your texture isn't as smooth as you would like.
Here is the recipe I tried this week:
Eggnog
1 1/3c milk
2 cloves
1/8 t vanilla
¼ t cinnamon
4 egg yolks
½ c sugar
Rum flavoring
1 1/3 c half & half
¾ t vanilla
1/8 t nutmeg
Combine first 4 ingredients in a small saucepan. Warm the mixture over lowest heat for 5 minutes, eventually bringing it to a boil.
Meanwhile, whisk together the egg yolks and sugar until the mixture is fluffy.
Add a little bit of the hot milk mixture to the eggs to balance the temperature. Gradually combine the two mixtures. Heat them over medium heat for about 3 minutes, until it thickens. Do not boil the mixture.
In a separate bowl, combine the rum flavoring, half & half, vanilla, and nutmeg.  Add the hot mixture to this. Pour the liquid into a container that has a lid, and put it in the fridge to cool overnight.  This made 4 servings for us.
And to all of you who have been wondering how the mincemeat turned out?
The bottled stuff is probably more satisfying, even though the price tag can seem high. My filling wasn't as rich as I expected…but maybe I'm remebering chess pie?
Save